Members
3Back - We Make Teams Better
Agile Scrum Training and Consulting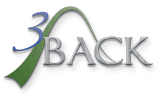 We use a well formed team approach in our engagements. Our focus is on people first. We are passionate about both people and technology and how we can build better systems comprised of both. We make teams better, and better teams make better products.
Advanced Services
These services are for those organizations that wish a deeper dive into software product development. These types of services are called advanced because they require a deep commitment on our part and yours. These are the engagements that offer the most interesting perspective to us because we get to see your teams change over a length of time and you get us committed to a longer road than otherwise. We often find that these types of engagements emerge from simply taking a training course or seminar from us.
Email: info@3back.com
Phone: 1-855-32-3BACK
Get To Done®
Get Trained. Get Agile.
Your number one constraint in complex product development work is attention. We each have a limited amount of attention. Get To Done is more than just software as a service. Get To Done has been designed to focus the team's effort on the now / future and minimize focus on 'sunk costs'. The tool provides reporting and historical information but, does not put that information front and center in your teams view. Get To Done is the only tool on the market designed from the ground up to improve visual attention and sharpen agility. Get the Facts
Email: info@gettodone.com
Phone: 1-855-543-DONE